| | |
| --- | --- |
| AC servo motor for "SEIKO" machine. | |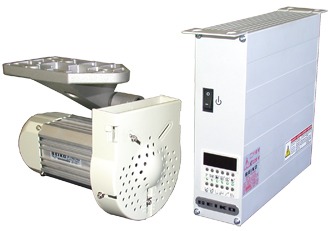 Variety
HVP-i70
Rated speed
3,500r.p.m.
Rated output
750W
Power voltage range
100-120V
200-240V
Pully size available
55-85mm
Gross weight
10.9Kg
Packing dimension
(L/W/H)
400×320×430mm
Features

Simple and easy to use for "SEIKO" machines.
(Pre-setting the necessary parameters for "SEIKO" Models then only setting the
machine code number when initial operation.)
Low noise, low vibration and low power consumption.
Highly accurate positioning.
Without syncronizer(if dameged), motor working as Clutch motor and the backtack
solenoid & auto-foot lifter still working.
Specification matched the "CE" Standard.
Solenoid over current protected.
Fully digital design, powerful parameter built-in for application.
With O.V. ,O.C. ,L.V. protection function and controlled by software.
With auto-running timer inside, easy to test. (Function no.135, 136, 137 & 138)
Easy to maintain through error cord display.