High speed, Cylinder bed, Large Vertical axis hook, Compound feed
Compound feed and walking foot, Reverse stitch, Lockstitch machines.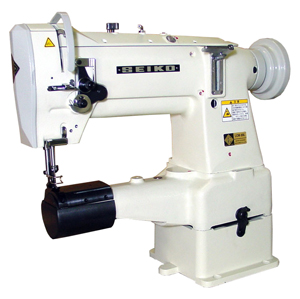 Variety
LCW-8BL
Max. sewing speed
2,000s.p.m.
Max.stitch length
6.2mm
Clearance under
presser foot
14mm(by pedal)
8.5mm(by hand)
Needle bar stroke
33.2mm
Needle(Standard)
DPx17 #22
135×17 #140
Hook
Large vertical axis hook (2.0times)
Amount of walking
foot movement
2.7-5.5mm
(Standard3.2mm)
Lubrication
Semi-automatic lubrication type
Cylinder size
77mm
Variety

LCW-8BL
LCW-8BL-TA
For thick thread.
LCW-8BL-1
Small sized cylinder edge.
LCW-8BL-1-TA
Small sized cylinder edge, for thick thread.
LCW-8BLV
Synchronized binding.
LCW-8BLV-1
Synchronized binding, small sized cylinder edge.
Applications

For sewing medium to heavy weight fabrics, leather, synthetics, canvas and various coated and laminated materials.
Suitable for sewing tubular and curved work such as shoes boots, bags and handbags.