High speed, Large vertical axis hook, Compound feed and walking foot,
Reverse stitch and split needle bar, Lockstitch machine.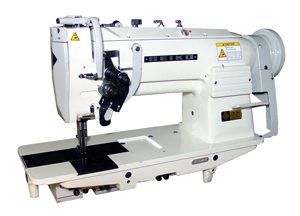 Variety
LSW-28BLK
Max. sewing speed
2,400s.p.m.
Max.stitch length
6.5mm
Clearance under
presser foot
13mm(by knee)
8.5mm(by hand)
Needle bar stroke
32.6mm
Needle(Standard)
DPx17(#22)
135×17(#140)
Hook
Large vertical axis hook (2.0times)
Amount of walking
foot movement
3-6mm(Standard 4mm)
Lubrication
Semi-automatic lubrication type
Applications

For sewing medium to heavy materials such as leather, coats, jackets and jeans
which require decorative or functional angular stitching.