Single needle, Extra heavy duty, 20 inch long arm,
Large horizontal axis hook, Drop feed and walking foot,
Reverse stitch, Lockstitch machines.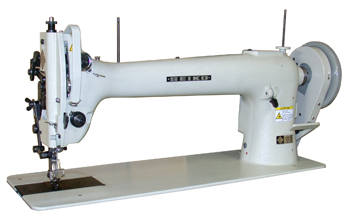 Variety
SK-2B-20-1
Max.sewing speed
900s.p.m.
Max.stitch length
13mm
Clearance under
presser foot
14mm(by pedal)
13mm(by hand)
Needle bar stroke
50.8mm
Needle(Standard)
DDx1 #24
328 #180
Hook
Large horizontal axis hook
Amount of walking
foot movement
3-6mm(Standard 4mm)
Lubrication
Hand type
Working space
510×190mm
Applications

For sewing heavy weight leather, canvas, vinyl, and various coated and laminated fabrics.
Suitable for sewing such products as harnesses, covers, safety belts, tents, sheets, gloves, buffs, and heavy duty travel bags.