Single needle, Long arm, Super heavy duty, High foot lift,
Large oscillating shuttle hook, Drop feed and walking foot,
Reverse stitch, Lockstitch machine.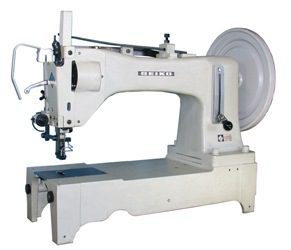 Variety
SLH-2B-FH-1H
Max.sewing speed
600s.p.m.
Max.stitch length
15mm
Clearance under
presser foot
40mm(by hand)
42mm(by pedal)
Needle bar stroke
73mm
Needle(Standard)
ORGAN 1001H (#28)
Schmetz 1000 (#250)
Hook
Large shuttle hook
Amount of walking
foot movement
5-7mm(Standard 6mm)
Lubrication
Hand type
Variety

SLH-2B-FH-1H
High presser foot lift 40mm(*),
long needle bar stroke
Applications

For sewing super heavy weight materials.
Suitable for sewing products such as safety and logging belts, cargo slings, buffing
wheels, harnesses, construction barriers, parachutes, balloons and book binding.
(*)Due to functional specification, there is 13mm clearance between the presser foot and the throat plate when the presser foot comes to lowest position.