Single needle, Extra heavy duty, Large oscillating shuttle hook,
Compound feed and walking foot, Reverse stitch, Long arm,
Flat bed, Lockstitch machines.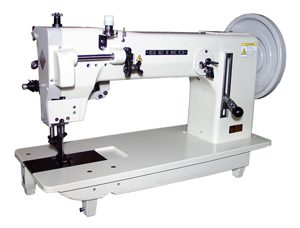 Variety
TH-8B
Max.sewing speed
800s.p.m.
Max.stitch length
12mm
Clearance under
presser foot
25mm(by pedal)
10mm(by hand)
Needle bar stroke
56mm
Needle(Standard)
DYx3 (#25)
794 (#200)
Hook
Large oscillating shuttle hook
Amount of walking
foot movement
3-6mm(Standard 4mm)
Lubrication
Hand type
Applications

For sewing heavy weight materials such as canvas, vinyl, leather, synthetics and
various coated, laminated and rubberized fabrics.
Suitable for sewing tents, sails, harnesses, safety belts, parachutes, balloons,
industrial bags, book bindings, suitcases and other extra heavy weight materials.