Single needle, Long arm, Super heavy duty,
Large oscillating shuttle hook,
Programmable electronic pattern sewing machine.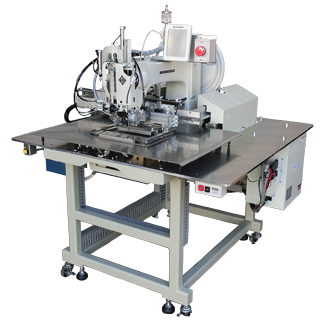 Variety
SAM-22
Max. sewing speed
600s.p.m.
Max.stitch length
13mm
Amount of inside
presser foot
38mm
Amount of outside
presser foot
28mm
Needle bar stroke
66mm
Needle
Schmetz 1000H #250 (Standerd)
Hook
Large oscillating shuttle hook
Sewing area
(X)250 mm × (Y)150mm(Standerd)
Scale up/down
function
10-200% for each X-Y axis
(1 increment/step)
Thread trimmer
Heat cutting system
Lubrication
Semi-automatic
lubrication type
Applications

For sewing super heavy weight materials.
Suitable for sewing products such as safety and logging belts, cargo slings, harnesses, construction barriers, parachutes, balloons and book binding.